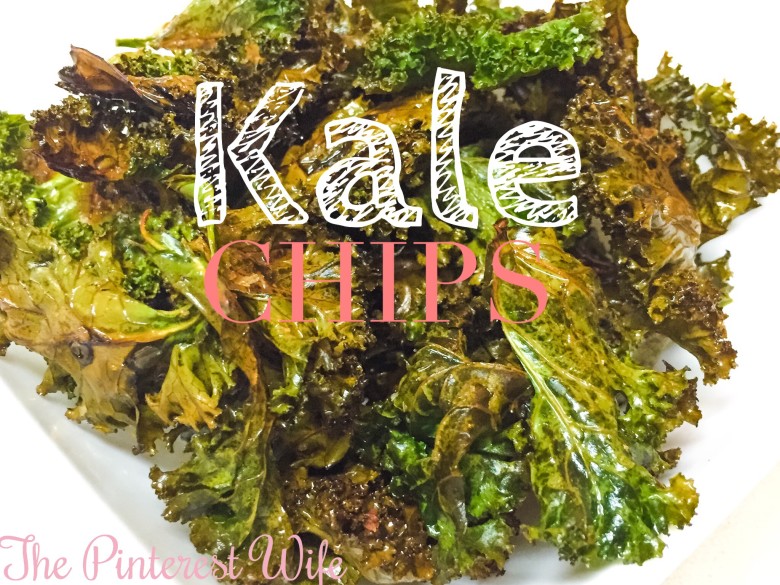 Hiya friends! It's been a little while…I hope your 2015 is off to a great start! I can't believe it's already March!! Where the heck did the time go?!?! I don't even have the slightest of clues. Like [pretty much] everyone else in the world, Eric and I resolved to eat, and just live healthier this year. I don't know about you guys, butI'm a huge snacker…especially on salty things, which can cause a bit of a problem when trying to eat healthy. Now, I've never been one to just stop eating something that I like and is not good for me, but I will try and find ways to make things healthier so I can still enjoy it. Kale has been a hot topic the last year or so for its many health benefits. One cup of Kale has only 33 calories, it's high in both fiber and protein, it's a great source of Vitamins A, K, and C, and a whole slew of other good stuff. However, while it may be super good for you, it doesn't taste very good plain. I throw it in my juicer with fruit and it's really good, but you're not necessarily getting all of the benefits it offers when you juice it, and it doesn't satisfy my salty craving. Cue Kale Chips. These chips end up really thin and crunchy and there are seriously so many options to satisfy our individual taste buds. Some people say that there is no such thing as a good Kale chip, but I beg to differ. Whenever I make them, they barely even make it into a container because Eric and I often polish them off straight from the pan. I've tried a few different ways of making them, but our favorites are tossed in grated parmesan cheese, sprinkled with garlic salt, or a little bit of red pepper flakes. I have a coworker who sprinkles them in cinnamon sugar and says they are to die for, but I have yet to try that. There are so many options for how to make these healthy, delicious snacks so use your imagination and let me know what you like!
Ingredients
1 bunch of Kale
1 Tbsp. Olive Oil
Sea Salt
Optional: Garlic Powder/Salt, Parmesan Cheese, Red Pepper Flakes,
Instructions
Preheat oven to 350
Wash and dry Kale
Cut Kale off the stem into pieces 1″-2″ long (Kale shrinks when you bake it so you'll want the pieces fairly large)
Place the cut Kale into a mixing bowl and toss with Olive Oil using your hands to make sure each piece is coated well
Spread the pieces on a foil lined baking sheet
Sprinkle with your topping(s) of choice (sea salt, garlic powder/salt, parmesan cheese, red pepper flakes, etc.)
Bake for 7-10 minutes or until the Kale is slightly darker and crispy
Remove from the oven and enjoy!
Just a little note: If you are just using sea salt, go VERY easy on it because it coats a little too well, and your chips may end up too salty.
Happy Snacking