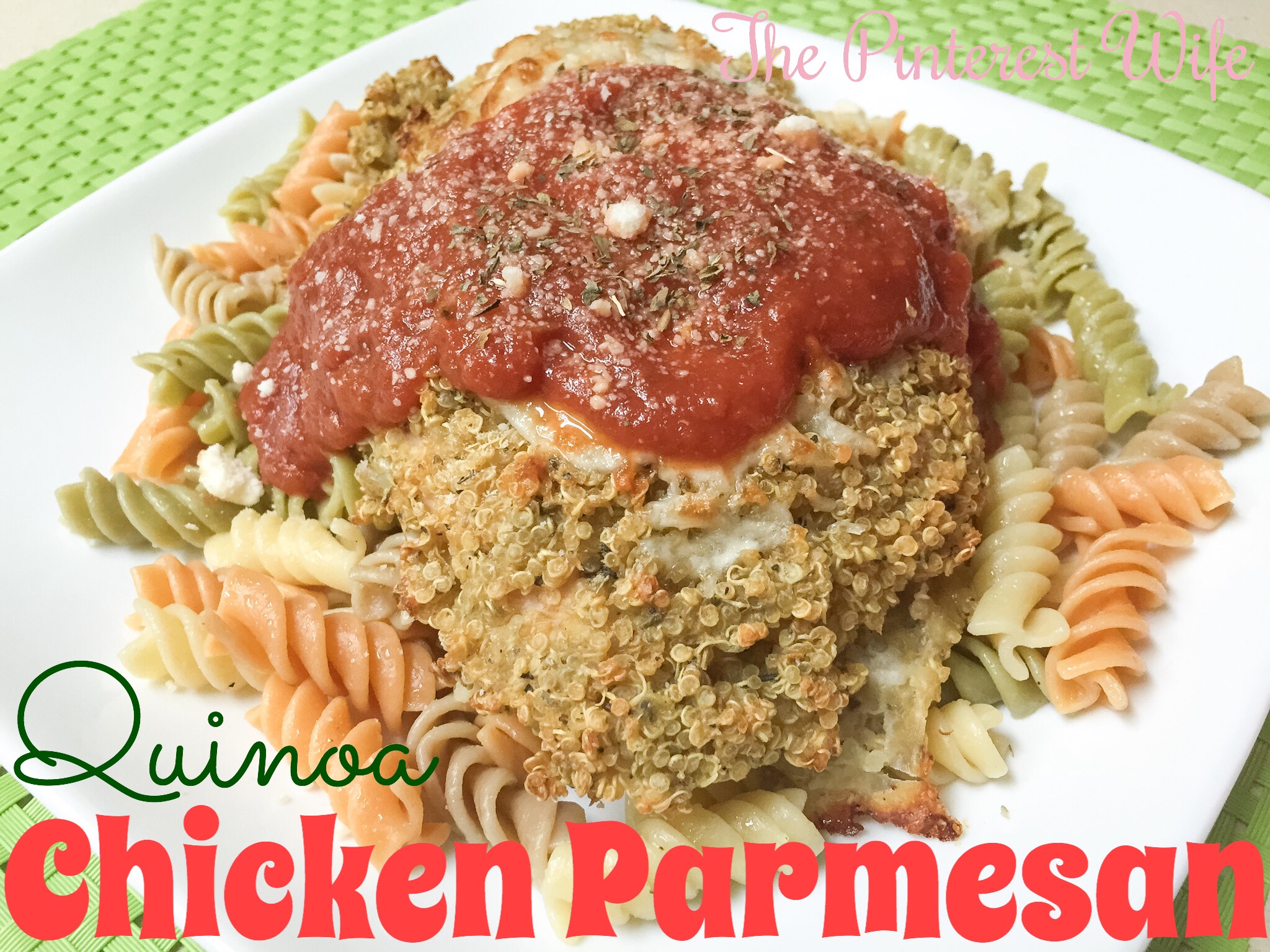 Happy Thursday everyone! Today's recipe is beyond yummy and a healthy option to one of the best comfort foods around. Chicken parmesean is one of the Misters favorite dishes, but the whole breadcrumb coating isn't so low-carb friendly. When I stumbled upon this gem of a recipe, I knew I needed to try it, because who can argue with a low-carb, protein packed version of our fav Italian dish?! I won't lie, I was a little skeptical of how crispy the quinoa crust would be, because let's be honest, there is nothing worse than soggy chicken parmesean, but I tried it anyway and was very pleasantly surprised! The crust was nice and crunchy, the chicken stayed moist, and it didn't take too long to whip up! I actually did all the prep in the time I had between work and yoga and just let Eric pop it in the oven when I left my class so it was all ready to eat when I got home! Our chicken breasts were really big so I cut them in half, leaving us with a LOT of chicken parm, so we froze it for dinner another night. We just popped it back in the oven and it was just as crispy and delicious as it was hot off the press.
Ingredients:
1 cup Quinoa
1 1/2 cup chicken broth
1 tablespoon Italian Seasoning
2 boneless, skinless chicken breasts (cut in half lengthwise)
1/2 cup flour
2 eggs beaten
1/2 cup shredded Mozzarella cheese
1/2 cup shredded Parmesan cheese
1/2 cup- 1 cup marinara sauce
Salt, pepper, and garlic powder to season
Instructions:
Preheat oven to 400
Add the chicken broth and Italian seasoning to a large saucepan and cook the quinoa in it according to the package directions.
Season the chicken breasts with salt, pepper, and garlic powder

When the quinoa is done, move to a shallow dish
Dip into beaten egg
Dredge each chicken breast in flour and shake off excess

Coat with quinoa, making sure you press quinoa all over the chicken to get a good coat on it

Place each coated chicken breast in a lightly greased baking dish

Bake for 20-25 minutes or until the quinoa is golden brown
Combine the Mozzarella and Parmesan cheeses

Top each chicken breast with the cheeses and marinara and place back in the oven for ~5 minutes or until the cheeses have melted

Sprinkle with basil (and more marinara if you'd like) and enjoy!