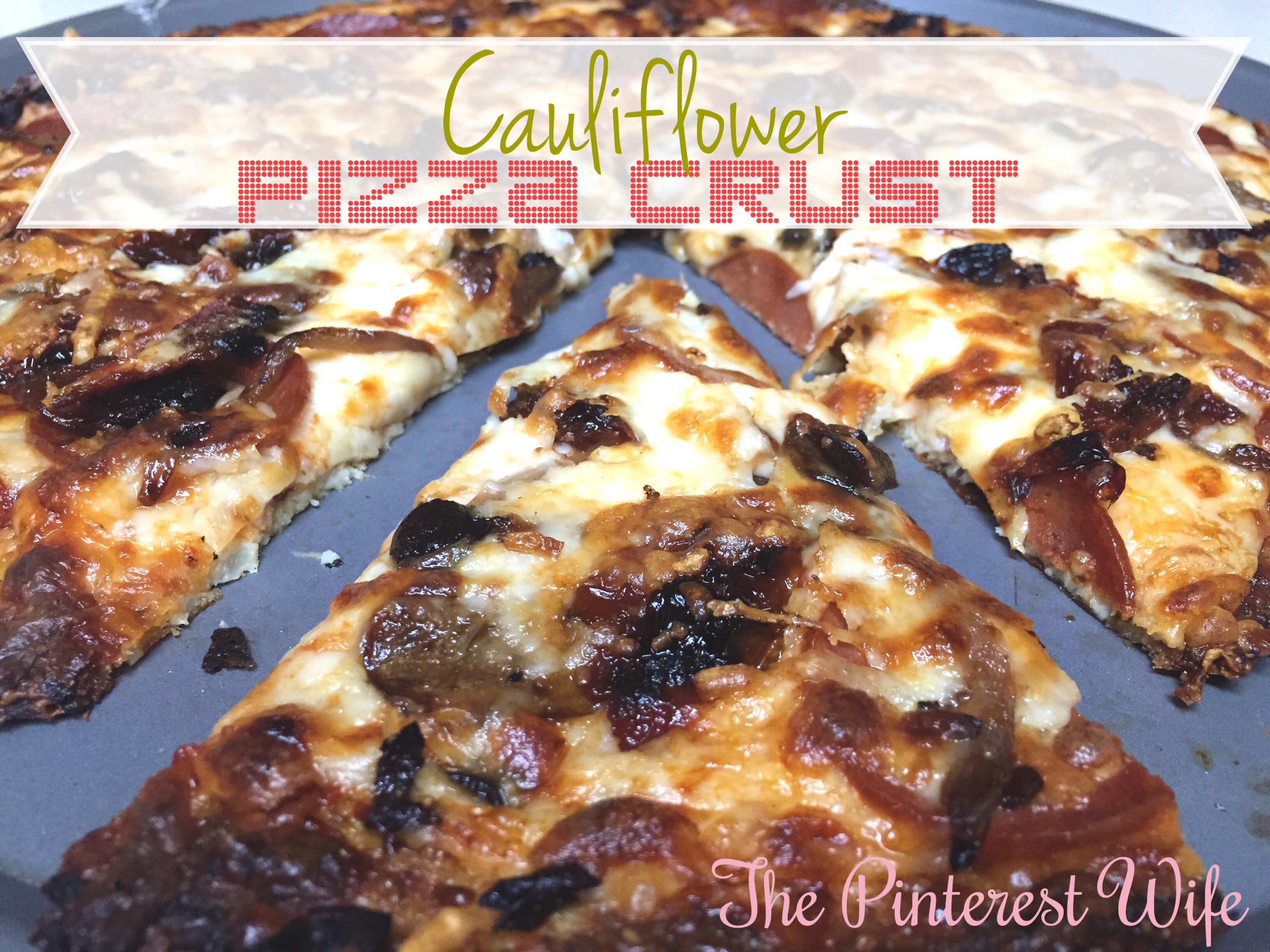 Hi friends! Can you guys believe how fast summer is going?! I sure can't… I don't know about you guys, but I know that I work really hard all spring and the first part of he summer to eat healthy, but when this time of year rolls around, I have a tendency to stop paying as much attention to my diet and it's all downhill from there. This year I told myself I would be different and I'm happy to say that I've been succeeding. For those of you who know me well, you know that pizza is undoubtedly my favorite food. I could eat it everyday and be a very happy [but very round] camper. To avoid that, I've become a really big fan of cauliflower crust. It's a great way to lower the carbs from traditional pizza crust and I promise it taste nothing like cauliflower. It's unbelievably delicious… Even the mister, who is of the opinion that you shouldn't try to take a tasty unhealthy thing and make it healthy because it'll probably suck, enjoyed it! Now, it took me a looooong time to find the right recipe, so I'm really excited to FINALLY share it with you.
Ingredients
1 medium sized head of cauliflower
1/2 cup shredded mozzarella cheese
1/2 cup shredded Parmesan cheese
1 egg (beaten)
1/2 tsp. Oregano
1 tsp. Italian Seasoning
1/4 tsp salt
1 tsp crushed garlic
Instructions
Preheat oven to 450 degrees

Wash and pat dry your head of cauliflower

Cut the florets off your head of cauliflower (you don't need too much of the stem)

Pulse cauliflower in a food processor until it resembles rice
Transfer cauliflower into a microwave safe bowl and cook, covered for 4-5 minutes
Remove from microwave and allow to cool for a few minutes so you don't scald your hand on the next step

When it's cool transfer to a clean tea towel and gather all four corners up like a sack

This is without a doubt the most important step: Twist the towel to wring out as much water as possible (make sure you do this over the sink, you'll be amazed at how much water will come out!) Continue doing this until little to no water comes out when you twist the towel.
Place your now dry, riced cauliflower in a mixing bowl and add egg, cheeses, and seasonings to the bowl
Mix all ingredients until thoroughly combined
If you have a pizza stone, spread the dough out on it. If not, line a baking sheet with parchment paper and spread the crust on there
Bake for 15 minutes or until a golden brown
Add sauce, cheese and toppings
Bake for an additional 5-7 minutes or until cheese is golden and melted
Remove from the oven and allow to cool for about 5 minutes (this is ABSOLUTELY necessary so the crust can firm up a bit and make it so you can actually pick it up like normal pizza)
Cut and enjoy!